Milk, Honey, Priorities
Oscar Zollman Thomas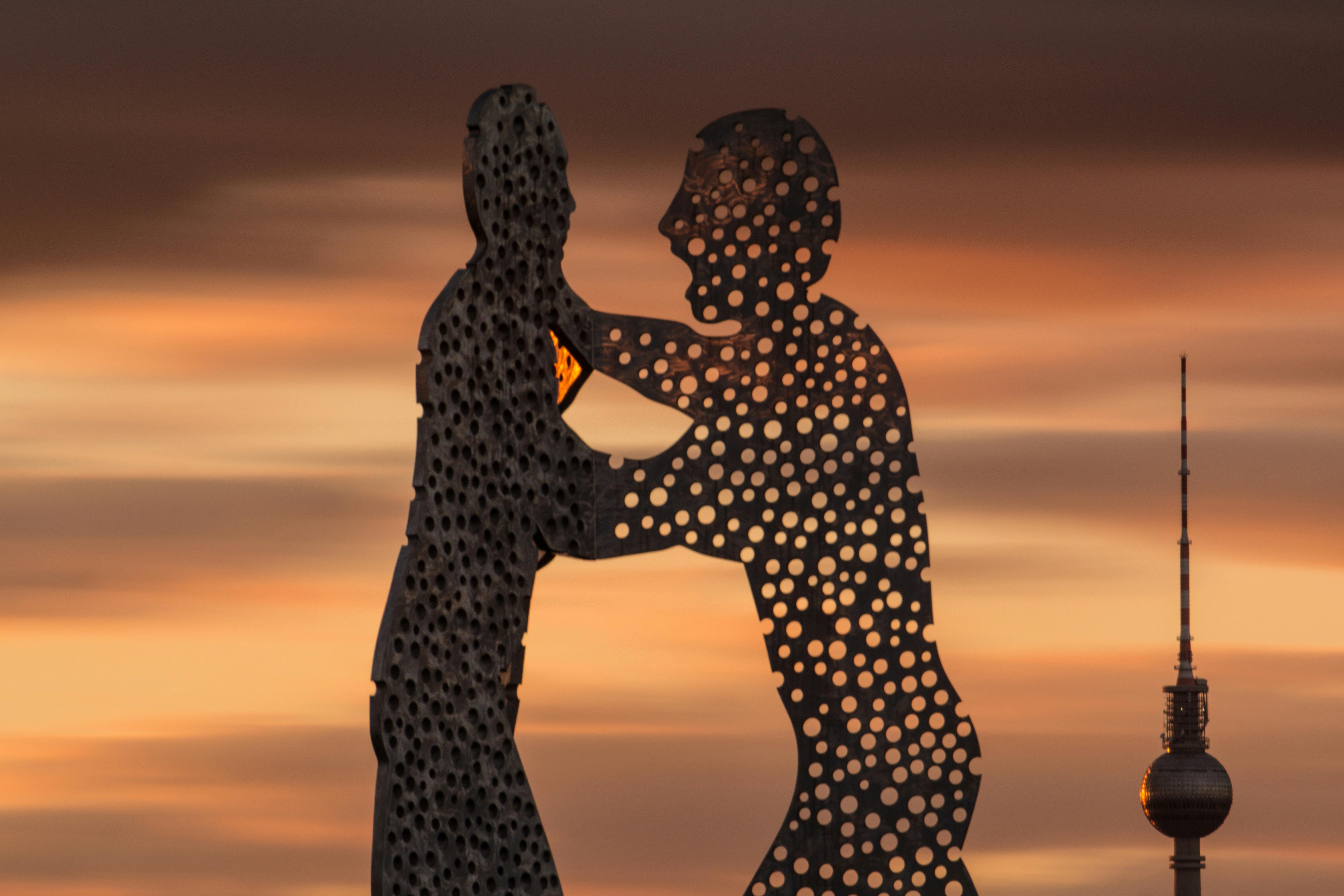 Three giant, iron figures rise from the waters of the Spree, standing directly opposite the Formo offices. They are the Molecule Men, thirty metres high, with their touching torsos representing the intersection of three proud Berlin districts.
As a Berlin autumn broke, Formo and Bitkom invited a range of voices to come together underneath these statues. We wanted to discuss evolving our food-system in evolving times.
We never made it to torso touching, but the event saw a mixing of different realities and priorities, offered by figures whose ideas and actions will shape the future of our food system, setting the scope for when and how changes are realised.
Our spree-side offices were honoured to host those representing stewards, sparks and filaments of food-system change: elected representatives, incumbent industry players, federal ministry bodies, climate scientists, and future-tech advocates all present, sharing their overview and perspective on where we are now, and where we need to go.
These voices arrived in the form of:
Zoe Mayer, Member of German Parliament,
Dr. Ingo Stryck, Managing Director of Marketing at Wiesenhof,
Prof. Dr. Veronika von Messling, Head of Department for Life Sciences at the Federal Ministry of Education and Research,
Dr. Franziska Gaupp, Senior Scientist at the Potsdam Institute for Climate Impact Research & the Director of the Food Systems Economics Commission,
Andreas Schweikert, Division Manager of Digital Farming and Food Tech at Bitkom,
Roman Plewka, CFO/COO of Formo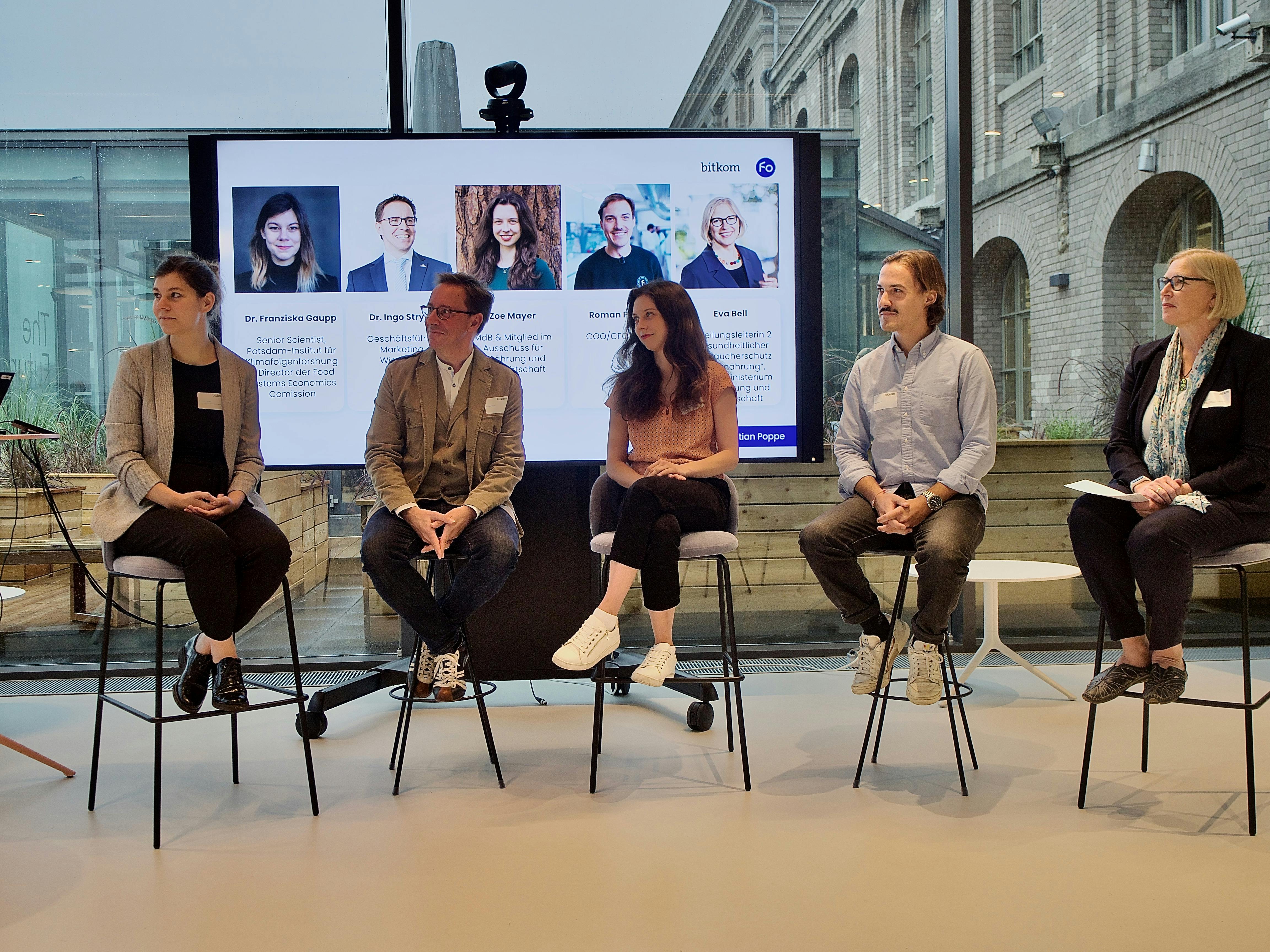 While Bitkom and Formo are longtime purveyors of dreams of digitalisation and dairy development, the evening offered a chance for these shiny visions to meet the very real and very earthy realities of those putting meat on the table, those answering to their constituents, and those responsible for shaping the priorities of a department sitting atop a country of eighty-million. A boggy political environment poses many challenges for those looking to rapidly offer protein solutions, with limited guidance so far extended to ease products' journey to consumers. This evening showed both the complexity and possibilities for mutually supportive work into the future.
To that end, this was no VC love-in of back-patting and pitch decks, rather a stern examination of the realities, tradeoffs, and consternations of those being asked to fundamentally reimagine how a nation nourishes itself. While serving different stakeholders, all panelists saw fundamental flaws in our global food system and Germany's backseat role in changing it, recognising roles for themselves and their organisations in pushing for reforms.
A holistic overview was most comprehensively provided by Dr. Gaupp, who outlined an analysis of the need and mechanics of food-system change while underlining that our current protein consumption far outstrips necessary boundaries. This bird's eye view of our food-system was contrasted with the contributions of Dr. Stryck of Wiesenhof, who talked through the ground zero experiences of directly servicing Germany's hunger for animal protein. Wiesenhof, a meat company with over 3 billion euros annual revenue, has surfed the West's increasing appetite for protein, yet Dr. Stryck laid out how their business model has begun to account for the rise of the flexitarian consumer; a series of investments into alt-protein companies and an increasing focus on health products. Wiesenhof sees enduring consumer appeal for the cutting of animal-product consumption, with these recent company moves reflecting so, but he added that performance-parity and price-parity would be the most central hurdles for the world of alternative-proteins to overcome to realise true mainstream disruption. While a company responsible for the annual sale of millions of broiler chickens and an animal-free dairy company could seem like unnatural bedfellows, Wiesenhof serves a very real demand and has a very real capacity to influence how consumers eat, qualities that every alt-protein company should aspire to understand and, eventually, exercise. Their nuanced, pragmatic and real relationship with protein lovers made for a valuable addition to the panel, and close liaison and coordination with the incumbent industry be vital for the emerging alt-protein industry and those seeking to aid its political arrival.
Equally important to understand, with a view to both navigation and effective pressure campaigns are the inclinations and concerns of Germany's political establishment. Overseeing a department with the capacity to ease the bumpy road of novel foods onto German markets, Prof. Dr. von Messling, who has been responsible for Germany's bio-economy strategy, spelt out her understanding of the role of the bio-economy. She saw the primary function for Germany's bio-economy strategy as ensuring food-security and increasing Germany's capacity to diversify and innovate its supply of material inputs for industry. These goals should be faithfully served alongside other societal objectives such as consumer nutrition, biodiversity, and cultural values. Germany can be a leader here, and von Messling promised close liaison with the Ministry of Food, Agriculture and Consumer Protection on their new Food Strategy document, which will highlight the enabling levers government can offer this burgeoning industry.
Insight into the competing priorities of government were also in Ms. Mayer's panel contributions, whose Green Party coalition-partners see many upsides in the rise of alternative proteins, yet was reluctant to offer concrete means to bolster their arrival onto market. In the delicate game of public approval, enforced government measures were not deemed feasible by Mayer, who also saw scant opportunities for companies to circumnavigate the extensive European regulatory processes, while offering the possibilities for incremental improvements in the transparency, speed and digitalisation of the processes underpinning German food regulation.
The moderating attitudes of government were on show here, and while companies like Formo might begrudge the hesitancy and short-termism of German political thinking, evenings like this one serve to calibrate all players in the space on what's feasible, highlighting the gaps (sometimes necessary, sometimes not) between ambition and ability. Conversations such as these will no doubt serve as seminal in determining how we approach the evolution of our food system, and will likely swell in importance as technologies and societal attitudes carry the possibilities of alternative protein further and wider.
The Molecule Men would no doubt be proud of the balanced meeting of ideas that took place underneath them, but the one-way flow of the river they stand in might serve as better inspiration for those asking where our relationship with protein is heading, and how best they can serve this current.